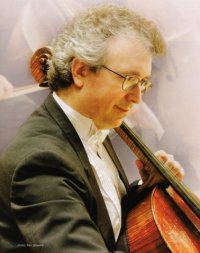 Rudolph Stein is a member of the Pacific Symphony Orchestra and works as a cellist in the Los Angeles recording industry. Before moving to California, he was principal cellist of the Charleston (WV) Symphony and prior to that, principal cellist of the Shreveport (LA) Symphony and was a member of their resident string quartets. He has also served as principal cello of the Pacific Symphony Orchestra, Opera Pacific, the Mozart Classical Orchestra, the San Diego Chamber Orchestra and the California Chamber Orchestra. He has played with the San Diego Symphony and had obtained other orchestra positions including section cello in the Wichita Symphony. While studying in Cleveland, he was a member of the Akron Symphony, Canton Symphony and Youngstown Symphony.
As a Chamber Musician, Mr. Stein has performed over National Radio and Television. He has also toured many parts of the United States, Europe and Latin America. He currently performs with his brother Edmund as a violin-cello duo and other various ensembles. His chamber music mentors include Arnold Steinhart of the Guarneri String Quartet, Koichiro Harada of the Tokyo String Quartet, Members of the Cleveland Quartet, Lillian Fuchs and members and former members of the Cleveland Orchestra including Stephen Geber and Alice Chalifoux.
He has attended and served as principal cello at many events and festivals including the Cleveland Institute of Music's Beethoven Society tour to New York's Lincoln Center, the Spoleto Festival in Charleston, SC and Spoleto Italy, the Classical Music Seminar at Vienna-Eisenstadt, Austria and the Aspen Music Festival where he was awarded a chamber music fellowship.
Mr. Stein is a graduate of the Interlochen Arts Academy High School and has both a Bachelor's and Master's degree from the Cleveland Institute of Music (click here to view diplomas). He has served as Professor of Cello at the University of Charleston has taught privately throughout his career. Currently, Mr. Stein teaches privately in Mission Viejo – Orange county, California and teaches virtually to students online around the world. He also works as a cello coach in a number of local schools including Mission Viejo High School, El Toro High School, La Paz Intermediate School, Rancho Santa Margarita Intermediate, Los Alisos Intermediate and Serrano Intermediate and has served as an adjudicator for the Irvine Unified School District High School Orchestra Festival.
Recording/Performing Credits:
Al Jarreau
Aaron Neville
Aerosmith
Alanis Morissette
Alice Cooper
Avrin Lavigne
Babyface
Barry Manilow
Beck
Biffy Clyro
Billy Joel
Bon Jovi
Brian McKnight
Brian Wilson
Burt Bacharach
Celine Dion
Clay Aiken
Clint Black
Counting Crows
Christina Perri
Dave Matthews
Dave Matthews Band
David Archuleta
David Benoit
David Foster
Destiny's Child
Diana Krall
Diana Ross
Despicable Me
Earth, Wind & Fire
Eddie Vedder
Elton John
Eric Benet
Eric Clapton
Everclear
Faith Hill
Fernando Ortega
Fort Minor
Frank Sinatra, Jr.
Fray
Fuel
George Benson
Gladys Knight
Goo Goo Dolls
Good Charlotte
Green Day
Gwen Stefani
Harry Connick, Jr.
Herbie Hancock
Incubus
Jaguares
Janet Jackson
Jaap Reesema
Jessica Simpson
Jewel
Joe Cocker
John Lithgow
John Tesh
Josh Groban
Joy
Justin Timberlake
Heitor Pereira
Hunter Hayes
Keith Urban
Kelly Clarkson
LeAnn Rimes
Lee Ann Womack
Linda Ronstadt
Linkin Park
Los Yonic's
Luis Miguel
Madonna
Maná
Mannheim Steamroller
Mariah Carey
Mark Isham
Meat Loaf
Michael Bolton
Michael Buble
Michael Feinstein
Michael Giacchino
Michael Jackson
Miley Cyrus
Natalie Cole
Neil Diamond
No Doubt
Patti LaBelle
Paul Anka
Paul McCartney
Pharrell Williams
Queen Latifah
Rascal Flatts
Ray Charles
Rebecca Ferguson
Ricardo Arjona
Ricky Martin
Ringo Starr
Robert Davi
Robert Downey, Jr.
Rod Stewart
Ruben Studdard
Rush
Santana
Seal
Shakira
Sheryl Crow
Shinedown
Skillet
Spinal Tap
Steven Curtis Chapman
Stevie Wonder
Sting
Tamela d'Amico
The Manhattan Transfer
The Pussycat Dolls
Thalía
Thomas Newman
Tim McGraw
Train
Travis Tritt
Wynonna Judd
Yani
Ziggy Marley