Description
These virtual gift cards are delivered to the recipient digitally, through email, the same day it is ordered. The recipient will receive an email from "Private Cello Lessons" with the subject line, "You were given a gift card". This will make it easy for them to recognize and redeem the card.
The email includes a graphical representation of the gift card and can include a personal message from the sender if desired. All the recipient has to do is click on the gift card in the email and it will take them to the proper web page (see it here: Privatecellolessons.com) to schedule their lesson.
The email delivery method allows a streamlined scheduling process for the recipient.
---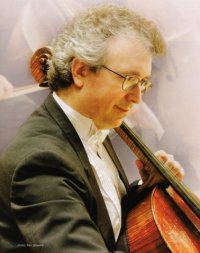 Rudolph Stein is a member of the Pacific Symphony Orchestra and works as a cellist in the Los Angeles recording industry. Before moving to California, he was principal cellist of the Charleston (WV) Symphony and prior to that, principal cellist of the Shreveport (LA) Symphony and was a member of their resident string quartets. He has also served as principal cello of the Pacific Symphony Orchestra, Opera Pacific, the Mozart Classical Orchestra, the San Diego Chamber Orchestra and the California Chamber Orchestra. He has played with the San Diego Symphony and had obtained other orchestra positions including section cello in the Wichita Symphony. While studying in Cleveland, he was a member of the Akron Symphony, Canton Symphony and Youngstown Symphony.
As a Chamber Musician, Mr. Stein has performed over National Radio and Television. He has also toured many parts of the United States, Europe and Latin America. He currently performs with his brother Edmund as a violin-cello duo and other various ensembles. His chamber music mentors include Arnold Steinhart of the Guarneri String Quartet, Koichiro Harada of the Tokyo String Quartet, Members of the Cleveland Quartet, Lillian Fuchs and members and former members of the Cleveland Orchestra including Stephen Geber and Alice Chalifoux.
He has attended and served as principal cello at many events and festivals including the Cleveland Institute of Music's Beethoven Society tour to New York's Lincoln Center, the Spoleto Festival in Charleston, SC and Spoleto Italy, the Classical Music Seminar at Vienna-Eisenstadt, Austria and the Aspen Music Festival where he was awarded a chamber music fellowship.
Mr. Stein is a graduate of the Interlochen Arts Academy High School and has both a Bachelor's and Master's degree from the Cleveland Institute of Music. He has served as Professor of Cello at the University of Charleston has taught privately throughout his career. Currently, Mr. Stein teaches privately in Mission Viejo – Orange county, California and teaches virtually to students online around the world. He also works as a cello coach in a number of local schools including Mission Viejo High School, El Toro High School, La Paz Intermediate School, Rancho Santa Margarita Intermediate, Los Alisos Intermediate and Serrano Intermediate and has served as an adjudicator for the Irvine Unified School District High School Orchestra Festival.